Quickly add Instagram Hashtags to Photo
So you're trying to get more likes on your Instagram photo but the tediousness of typing out all those hashtags is getting to you. Sadly, Instagram does not offer tag clouds/bundles which would make life much easier for us. If your posts are set to public, you can add tags to your photos and videos that will make them visible on public tag pages. One quick way to add hashtags is to use your iPhone's Keyboard Shortcuts.
Step 1
Navigate to Settings > General > Keyboard > Shortcuts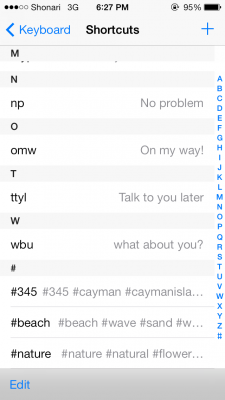 Step 2
Add a new shortcut by tapping the '+' in the top right hand corner. In the phrase field add all the hashtags you would like for whatever topic you choose. For example: #beach #wave #sand #shore #ocean #water #surf
After you enter your preferred hashtags move to the Shortcut field and add the shortcut you wish to use. In this case I use #beach. So every time I add the hashtag #beach to my Instagram photo it will expand to include #beach #wave #sand #shore #ocean #water #surf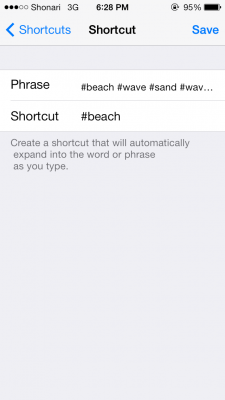 Repeat the steps above to add as many "tag bundles" as you wish.