How to send sms texts via email on your Blackberry
Now I'm sure everyone is looking for some way to cut costs in the midst of this global recession. One way i do this is by using my unlimited Blackberry Data Service to send 'free' sms text to my friends and relatives. Here are the steps:
Step 1: Find out your the sms gateway for your receivers mobile network provider. Here is a list of sms gateways and their corresponding providers
For the Caribbean:
Digicel: areacode+number@digitext(countrycode).com
For example, Cayman would be:  345xxxxxxx@digitext

ky

.com)
Jamaica: 876xxxxxxx@digitextjm.com
Cable & Wireless (Lime): areacode+number@txt2lime.com or areacode+number@cwmobile.com
Step2:  Go to the email setup application from your blackberry and add an email address (if you havnt already) preferably Gmail, Yahoo or Hotmail. I find other private email adresses (mail@yourdomain.com), when passing through the blackberry server, pick up alot of extra garbage and as we all know sms texts have a character limit of about 160. So your original message may be truncated and replaces with alot of crap text.
Step 3: To your existing contacts, add an email address using the sms gateways provided here and in step 1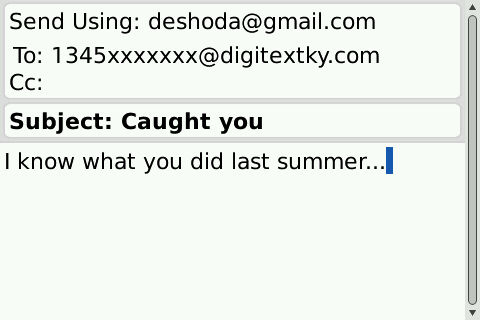 So for example, your girlfriends number (e.g. 1718-123-4567) add an email adress as 7181234567@smsgateway.com)
Step 4: Go to your blackberry "compose email" function and set your sender and reciever as stated above. In the subject put your name and in the body insert your message (please make it short, about 100 characters)
Step5: Hit send.
That's it! Your contact should get the sms text in about a minute.
An extra step you can add is to go to your Blackberry account on the web and change you signature to tell the receiver not to reply to the number the sms text came from. Why? When an sms text arrives to a phone via email, a default number is normally seen example 555 or 444. Replying to this number will result in the loss of the message and you wont get it. So the person will have to reply using the number in their phonebook.
This is just a workaround for people on a prepaid service and dont have any credit.
If you want to create a "I know what you did last summer" anonymous sms text with no return email address or number, just go online and send email through one of the many anonymous emailers or use a disposable email address
Additional Notes:
If only some bored blackberry app developer would create a application utilizing this method they would make alot of people happy 🙂