Clone Chrome using Firefox
After about three weeks of using Google's Web Browser, Google Chrome, I have abandoned it and returned to my first and only love, Firefox. Chromes downfall for me was the lack of addons which would give it added functionality (firefox's saving grace) and the fact that many little glitches were not worked out. But i still fell in love with Chromes distinct look and feel and its use of space. So after a little searching and hacking i finally got firefox to both look, feel and perform like Google Chrome with many of the standard Chrome Features enabled. Here is what i did:
1. First i got rid of the top main menu bar, didn't see the purpose of it majority of the time as i rarely used the thing. To do this just download the Addon Hide Menubar and install
2.Next, I turned Firefox's address bar into a search bar as well. It does this by default but it only shows the "I am Feeling Lucky" result of a Google search. To enable full search of words and phrases, do the following:
At Firefox address bar, enter about:config and press ENTER.
At Filter: field, type keyword.url
You should see a Preference name of keyword.URL in the list. Double click it, a "Enter String Value" input box will appear.
Replace the string with:
http://www.google.com.my/search?q=
Click "OK" button
3. Next I installed the Download Statusbar Addon. This is an excellent addon that replaces the default download window of firefox with a sleek, easy to use toolbar.
4.  Then finally installed the theme Chromifox Basic. This theme mimics chromes light blue look perfectly and brings the cloning of Google Chrome to a near perfect copy.
Here is the final Product: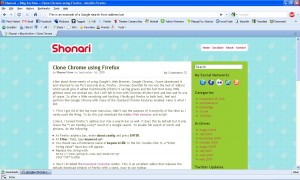 Some other features that could be added to make the transformation complete are:
Incognito Browsing: Stealther Addon (Now a feature of Firefx 3)
Speed Dial and Auto Dial Power Up Your Empty Tabs: Speed Dial Addon (This is now a feature of Firefox 3)
Google Chrome's "omni bar": Locationbar2
Prism Extension Turns Any Site into a Separate Application