Change Screen Resolution of Windows 7 Guest on a Mac Host – Virtual Box
After an extensive online search I have finally figured out how to change the screen resolution for my Windows 7 installation (Guest) that I am running on a Mac Mini via VirtualBox. By default the screen resolution is set to 800×600 and any attempt to resize the window leaves windows 7 at a fixed 800×600 while the VirtualBox window resizes.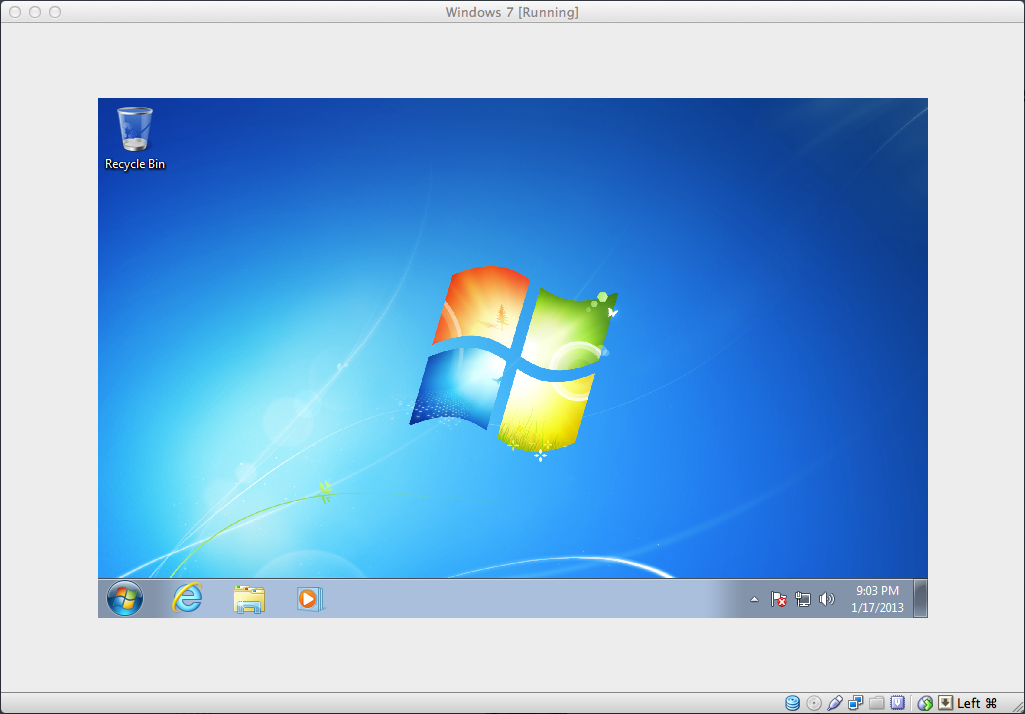 Here are the steps:
OSX Version 10.8.2 (Mountain Lion)
VirtualBox Version 4.2.6
Windows 7 x86 (Guest)
Step 1: On the Mac, go to Applications and scroll down to Virtual Box. Right-click and select 'Show Package Contents'. Navigate to Contents > MacOS > VBoxGuestAdditions.iso
Step 2: Copy the file VBoxGuestAdditions.iso to the desktop (make sure to copy and not create a shortcut)
Step 3: Mount the image by double clicking VBoxGuestAdditions.iso. This will also open and show the contents. You can go ahead and close that window.
Step 4: Head on over to VirtualBox. Open it and start your instance of Windows 7. After it has completed the boot sequence (and you have logged in if you have a password) click the tiny CD icon and the bottom of the VirtualBox window that Windows 7 is running in. Deselect any mounted image you see there by clicking on the image name (you will know if its mounted by seeing a checkmark beside the name).
Step 4: Click the CD icon and select 'Choose a Virtual CD/DVD Disk File'. Navigate to the iso that was mounted on your mac desktop. NB. If the image does not auto run, at this point you can go to 'Device' (found at the top of the window) and select 'Install Guest Additions – Host + D'
Step 4: Run the setup for Virtual Box Guest Additions. Your Windows 7 install will restart upon completion.
After restart, you can now resize the Windows 7 VirtualBox window to any size you wish. If you wish to change back to default setting, just go to 'View' and uncheck 'Auto Resize Guest Display'.