Microsoft Mega Award Lottery
It seems that Google Mail (Gmail) in recent weeks has been invaded by the internet scam people. Being a Gmail user for over 3 years, I was proud to say that I had never gotten spam while using Google's Mail Service. Now every week I recieve a few internet scams promising me millions of dollars from either winning the lottery, inheritance or some random win.
I know these scams have been around every since someone dreamed up the internet, but getting them through Gmail… unheard of. Google needs to use their acres of server farms and infinately fast processers to cut this problem in the bud and let us unsuspecting people not be fooled (or at least bothered) by this plague.
The latest scam I recieved was Email Lottery Scam called "Microsoft Official Winning". Here is a transcript of the email:
The Microsoft Mega Jackpot Lottery, United Kingdom wishes to inform you that the results of our Monthly Bonanza Lottery International Program held in Great Britain is out. Your e-mail account have been picked as a certified winner of a lump sum pay out of £1,550,952.00.(One Million Five Hundred And Fifty Thousand Nine Hundred And Fifty Two Pounds Sterling) credited to MICRO (LOTTERY) CHIP NO:9465206. The winning ticket was selected from a Data Base of Internet E-mail Users,from which your Address came out as the winning coupon in this category "A" ballot lottery. You are therefore required to contact our Claims Department with your:

You are to contact the Claims Consultant with the details below:

Contact Person: Mr. Nicholas Caldwell.

E-mail : [email protected]

THE BENEFICIARY/OWNER OF THE WINNING E-MAIL SHOULD COMPLETE OUR CLAIMS FORM.

FILL THE INFORMATION BELOW:

Name:
Age
Sex:
Marital Status:
Tel/Fax:
Address:
Occupation:
Dr. (Mrs) Elizabeth Andre
Below is a screenshot of the email (click to enlarge):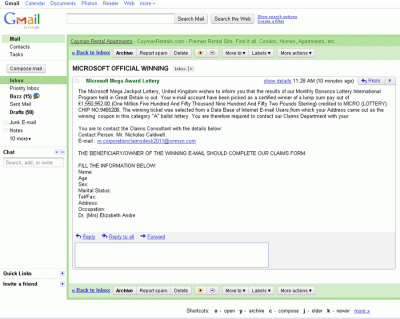 I shouldnt have to tell you to immediately mark this email as spam. You WILL NOT recieve the millions they promise and you will be out of pocket a couple hundred (even thousands) of dollars. There is NO lottery and NO prize.